There she was , sitting at her table with her diary, going to pen down her day. But, today also her mind was not allowing her to think beyond Rahul – her life and soon she was lost in those beautiful memories which were making her smile as the day was witnessing twelve years of togetherness.
Anjali and Rahul met during a placement program some five years back. Rahul – a charismatic personality, tall and handsome and Anjali – an average indian smart girl. Luckily both of them got selected in the same company and while parting they exchanged their contact details.
They used to call each other for company related formalities. As time passed by, gradually Anjali started liking Rahul, not because of his looks, but because of his courteous and kind nature with everyone and anyone.
Soon they became very good friends after joining the company. Having every meal together was part of their daily routine. And after dinner long walk till home, that used to be the time when Rahul kept irritating and mocking Anjali and she used to adore it.
She had started loving Rahul but she was not aware of what was Rahul up to.
"Have I told you about Ria?", he asked Anjali.
"No, who is she? " , she responded.
"She is my sister's friend. We talk a lot these days and I think , We have started liking each other. I am soon going to propose her.", Rahul replied.
Anjali hugged Rahul and wished him the luck though she was broken and crying inside. She never admitted to Rahul that she loved him more than anything in this world. She was always a brave girl for the rest of the world but she was soft hearted inside.
The recent affair of Rahul couldn't change Anjali's behaviour for him. She was his usual friend or may be his soul-buddy.
Months passed by and one fine day Rahul asked Ria , "Will you marry me?".
"What?! Rahul, Please don't take me wrong. I always think of you as a very good friend. I don't think that way." , Ria said.
Rahul was deep in despair, lost in himself. He didn't come to work for two days. Anjali was worried and she called him, "Where are you Rahul? Why are you not coming to work? Is everything okay?".
"No, Anjali ! nothing is okay", Rahul responded.
"Okay ! Let's meet in the coffee shop near your house and we will talk. Now Cheer up Please!", Anjali said.
They were sipping coffee in that shop after a long time. Through the window, The view outside was awesome. Black clouds were covering the sky and hiding the beautiful shiny sun and it seemed soon rain was going to start.
"Why Ria is not like you?", asked Rahul.
"What? I didn't get you.", replied Anjali.
"I meant why did not she care much about me like you do. You care for me very differently. Why are you like this?", Rahul responded.

Anjali just smiled."What are you smiling at? I asked you a question. Oh.. wait.. Do you.. ?" , Rahul held her hand.
"Yes, I love you" , confessed Anjali today after soo many long years.
"Why did you never tell me earlier?", Rahul questioned.
"Because , I never wanted to influence your decision in life. My love for you is without any condition. You are always my best friend first." , She said.
"And , I think, I can never get a better soulmate than you. I love you too. I just didn't realise it earlier.", Rahul said.

Anjali cried in happiness. Anjali took two platinum bands out of her purse which she was carrying since one and half years and asked Rahul , "I love you. Will You marry me?".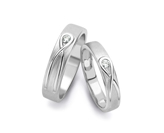 Rahul took the band and slipped it on her finger and she did the same. Both of them found there eternal love and they celebrated their day of love with Platinum.
Clouds outside disappeared. Sun was coming out of the clouds
, making them smile
and shining at their faces like Platinum.
Disclaimer: All characters in this work are fictional. Any resemblance to actual events or locales or persons, living or dead, is entirely coincidental.